CATALYST EVENTS
Written by: Sydney & Brodie Kern
Throughout the year, we were able to hold a few different Catalyst Events. There were a few impactful teams that helped put together Advent Conspiracy, Our Favourite Things, and Celebrate Single Moms. While the year did look a lot different than normal, it was still such a huge blessing and honour to get to lean in and help create meaningful events for our community and for our church family!
Written by: Connor Green
Kids Camp was an amazing few weeks of ministry this past summer! I had the privilege of leading and directing the camps with the help of an incredible staff and volunteer team. Our theme for the year was Focus 2020… Keeping our eyes focused on God! This served as a beautiful reminder, not only during the month of August but into the year as well. One particular highlight was the opportunity to partner with Kuwasha to help raise funds so that we could purchase goats for families in need in Uganda. Children and families helped rally around this cause, and we were able to purchase 13 goats!
Aside from that, we had a ton of fun singing songs and dancing, playing games, listening to the Bible stories, and laughing along the way with Zoe, Zane, and Zola as they tried to figure out how their time machine worked. A final highlight was that we were still able to be invitational, and have many families come from the community to kids camp. Here's a story from one of our Kids Camp volunteers:
"While volunteering at Kids Camp, I see God working through each and every worker as they help kids in their journey of finding and following Jesus. I have many fond memories of Kids Camp and being able to teach kids about the Bible while also having a blast certainly makes me look forward to serving at this catalyst event each year."

- Colby Southam
Written by: Connor Green
This year, we hosted a drive-thru event to Celebrate the Single Moms in our area. We had 45 moms and their kids drive through for a meaningful time of connection and care. We had a fun goodie bag for the kids, delicious hot and iced beverages for the moms, we washed cars, took individual and family portraits, and the moms were all sent home with goodies that included flowers, a meal for later, and some fun things to pamper themselves with.
We also had the opportunity to pray with many of these women throughout the drive-thru. We are so thankful for our amazing volunteer team and all those that were involved in making CSM awesome!
Written by: Connor Green
As restrictions continued to shift and change throughout the fall, so too did our plans around Christmas. In past years, MSB has been an amazing event that we all look forward to, but we had to pivot and shift to create something that was safe and fun, given the circumstances. We came up with our first drive-thru event: Our Favourite Things.
Our amazing team of volunteers worked tirelessly to get these beautiful, curated boxes filled with treats, connection ideas, tangible items, and fun activities for households to do as we led up to Christmas. A highlight was getting to hand out 500 boxes to individuals and families in both Walnut Grove and Yorkson, and having some fun characters and warm drinks for when everyone arrived.
GLOBAL OUTREACH
(GO TEAM)
Written by: Kyle Hendy
As we know, the effects of the pandemic have been felt all over the world, and this is especially true of those members of our church family who live and serve internationally. Closed borders, canceled flights, uncertain food security, and limited access to health care were some of the many challenges that our Global Family faced this year. Others were forced to simply pack up and come home, for the time being, living in limbo while waiting for a chance to get back 'home' to the field. This has not been easy on any of them.
But in many cases, the needs of the nationals living where our missionaries serve have been an even weightier burden on their hearts. In stepping up and calling out for help, our Global Family has reported over and over that as they have worked to meet these needs, God has opened doors that some would have never imagined possible.
In Switzerland, the Bartsch family found that with closed borders, their students from Nigeria and India could no longer attend training at their base. So, they opened classrooms in both those countries. Now they were actually able to train more people than they would have if their numbers were limited to the amount their base could hold. Rather than holding them back, God used the pandemic to increase their impact.
In Panama, in the midst of a budding Mennonite Brethren conference, Tony and Sarah Brown saw hundreds of Wounan believers supported through groceries and material needs being met. These believers subsisted by selling handicrafts in the cities, often relying on the tourism sector for their daily bread. With no way to make money, many returned home hungry. But through the efforts of the Brown family to catalyze the North American Church into action, needs were met.
In Hong Kong, Jennifer Muth and her team continue to work with marginalized groups in the city, and her words in a recent newsletter sum it up beautifully: "As we continue to serve where and how we can in this past year we have seen the pioneering of new feeding programs increasing the people that we feed to 8000+ on a monthly basis. We have distributed 34,910 masks and 15,200 sanitizers amongst the most marginalized and at risk. We have pioneered a new outreach ministry to the Cardboard Collecting Grandma's & Grandpa's here in Hong Kong and we have been continually challenged to seek and see God in the midst of trying circumstances because the truth is that He is always moving, always hoping, always perceiving and so we should be too."
And in Nepal, Jessi Kuehl and her husband Naresh Lawati have been working tirelessly to care for the migrant workers at the brick factory. The church they have started continues to flourish and even in the midst of this pandemic. Their entrepreneurial spirit has initiated new endeavours to provide food and shelter for these workers, and education for their children.
This year's Mission Sunday also looked different, as we were forced to move everything online. While we didn't get to taste the flavours of the world as we normally do, there was still a lot of interaction online, and some great connections were made between our church in Langley and our Global Family around the world. Mission Sunday also provided another opportunity to sponsor children through NLCC's partnership with Kuwasha. And finally, a HUGE blessing was that in 6 hours we were able to raise over $13,000 for the ministries being run by Jessi and Naresh in Nepal. That is AMAZING! Thank you NLCC for leaning in and giving to the work that God is doing around the world. The stories go on and could fill these pages, but hopefully, these few snippets show that God has been at work, even when we have felt stalled by the pandemic.
There is no stopping a God whose heart seeks after the lost, and our prayer as the GO Team is that all of NLCC would continue to step out on mission, knowing that we serve a God who will always make a way. Because, as Jennifer said, God 'is always moving, always hoping, always perceiving, and so we should be too.'
Blessings,
The GO Team (Kyle Hendy, Annelise Jung, Amy Olson, Joel Olson, Janet Thiessen, Daisy Wang, Naomi Watson)
LANGLEY CITY OUTREACH
Written by: Matt Smith
Sunday evenings the NLCC Outreach team partners with the local 5x2 ministry to provide a warm meal for the homeless population in Langley. Over the past year, I have seen and heard God move in the way of healing injuries, providing stable housing, and creating a safe/comfortable place for our friends to discuss current concerns and issues in their lives. Prior to COVID, the focus was inviting our friends into a warm sheltered area for fellowship. Due to COVID, we had to move outside and change the way we serve. Regardless, we were able to maintain relationships with a lot of our friends and develop some new ones along the way.
Something that impacted me over the past year was developing a relationship with one of our friends. He and his family were being evicted from their home and dealing with some health concerns. Over the past couple of months, I've gotten to know him more and spent time connecting over life. We would often pray about his family's health and for God to find them a new place to live. This past week we found out that his family has now found stable housing. We were able to spend time talking about God's goodness and being grateful for God's provisions. Another part of the ministry is providing clothing options for our friends.
God has provided an abundance of clothing for our friends over the past year. It's amazing to see how God leads us to bring just the right amount and types of clothing that the clients need that night. Lastly, I'm encouraged and humbled by the people who come out to support the ministry, whether that is a one-time visit or every Sunday. When I take a moment to really be mindful of what God is doing with this ministry, I am reminded of Jesus and how he modeled the significance of active listening, being present, and meeting people where they are.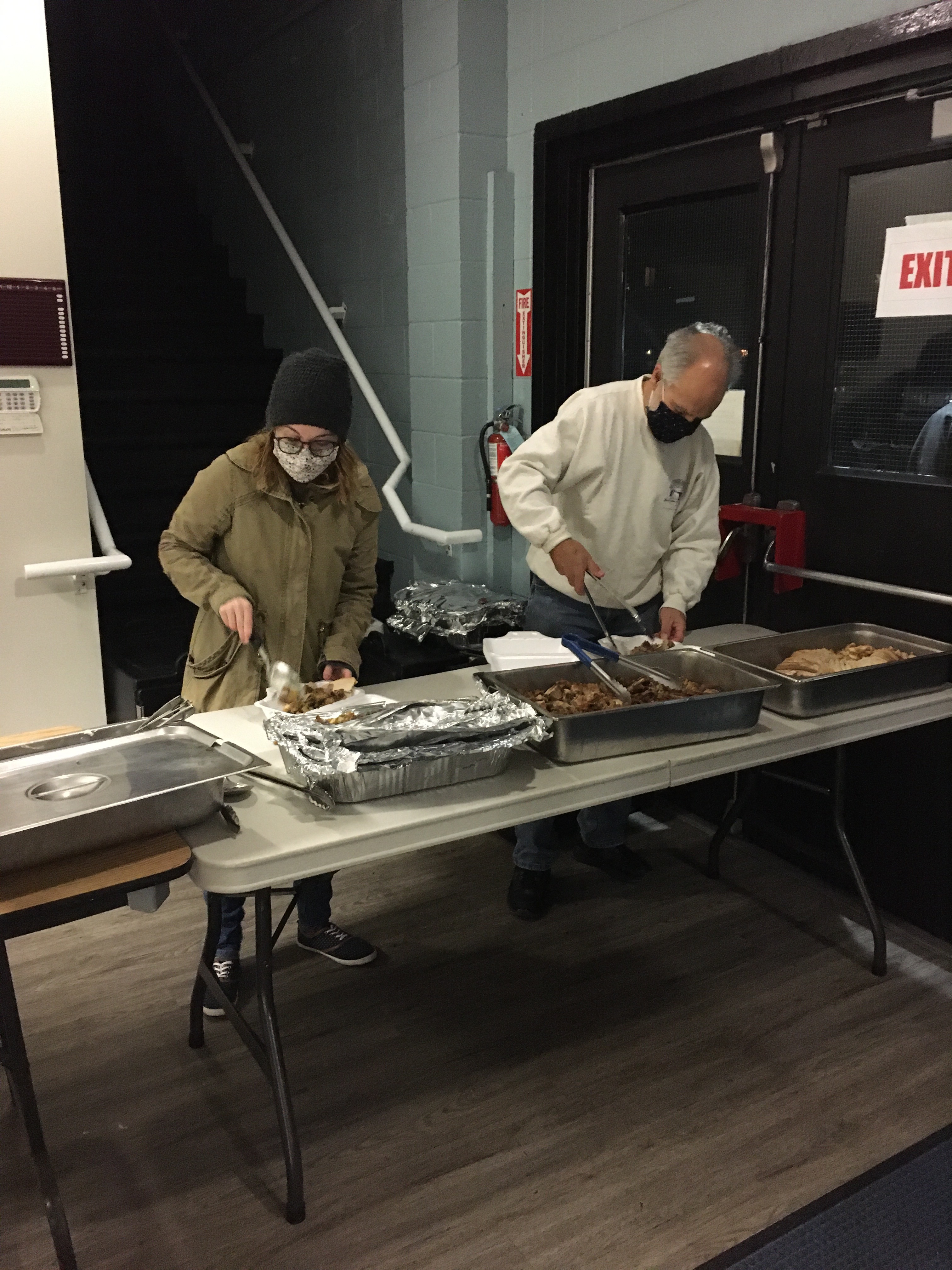 SYRIAN FRIENDS
Written by: Denise Friesen
One of my highlights of the past almost two years has been getting to know Hasan and Torfa and their beautiful family. They are some of the most hospitable and generous people I know. Their home is filled with much love and laughter.
The older children have been able to attend school for much of this past year, and when they were unable to due to restrictions they missed it immensely. As for most of us, this pandemic has brought its challenges, but Torfa and Hasan have made the best of the situation and always seem to find things to be thankful for. On weekends and holidays, their family has enjoyed time in many of the parks in the area. I had no idea that there were so many great places to explore!
The most recent news is that Hasan and Torfa welcomed a baby boy into their family. Ahmad was born on April 2nd and is a delightful addition to their family. When I first heard about the Syrian Friends team (Hasan and Torfa and family had already been in Canada for over 2 years) I was interested in being a part of it but wasn't sure in what ways I could contribute. I was so grateful when it seemed fine with the team that my 'contribution' could be to visit Torfa on a regular basis if that was okay with her. I could never have imagined just what a gift these visits would be for me. I have been so blessed by Torfa and Hasan, and thank the Lord for these beautiful friends.
QUILTING
Written by: Judy Foster
Meeting at NLCC on a weekly basis (pre-pandemic), the Quilting (for MCC) ministry has been producing simple and colourful patchwork quilts for about 4 years now. Almost all of the materials used in quilt construction are donated, and we have greatly appreciated God's generous provision of fabrics and other supplies, both from people who call NLCC home and from others outside of our congregation.
The volunteers in our group also include some ladies who don't usually attend church, and it is a valuable ministry to them as well, as they work and socialize with our positive and encouraging group. Our full-sized quilts go to MCC, which distributes them to people in need all over the world. In addition to these quilts, many small quilts for children have been created from the material we receive, which we give to Pregnancy Options Centre in Surrey, to bless women and families there.
As a group of volunteers, we find great joy in meeting and working together, when we have been able, and it is wonderful to know that each quilt we produce will bless another person in a moment when they really need warmth and reassurance in the very practical form of a bright and beautiful blanket. In 2020, we met as a group at NLCC until we had to stop in mid-March 2020, then we resumed very briefly in September, and now we wait until the pandemic situation will ease enough for us to meet again. In the meantime, though, some progress on quilts has occurred, as individuals work independently in their homes, and additional donations of fabric keep trickling in.
We also had the opportunity to switch gears slightly in early 2021, to make over 30 lap quilts for donation to Simpson Manor in Fort Langley as well as to some of our congregants, through NLCC's Cares ministry. Although the quilts we make are for others, God's blessing is felt on each of us as we contribute. We look forward to getting back to creating quilts together in community, and we hope to see many new volunteers join us.
GUEST SERVICES
Written by: Lisa Dalton
I have been attending NLCC for about 12 years now and have never felt so cared for and such a part of a big family. This has led me to volunteer for whatever and wherever I can. I have worked with greeting, ushering, communion, as well as special events such as Making Spirits Bright, Advent Conspiracy and Celebrate Single Moms. I have seen God's work in everything I do at NLCC. Providing kindness, support and love to many who need that bit of encouragement.
God has brought me so much closer to Him through my relationships with the NLCC family. Having been through so much in the past years, this family has been there for me every step of the way. By serving, I am looking to bless and be there for others who need prayer, an understanding ear, or even just a smile to say hello at the front door.
This past year where we have been unable to worship together, I have felt the deep loss of being together and welcoming newcomers. This has shown me just how important it is for me to serve in any capacity I can.