This event has already occurred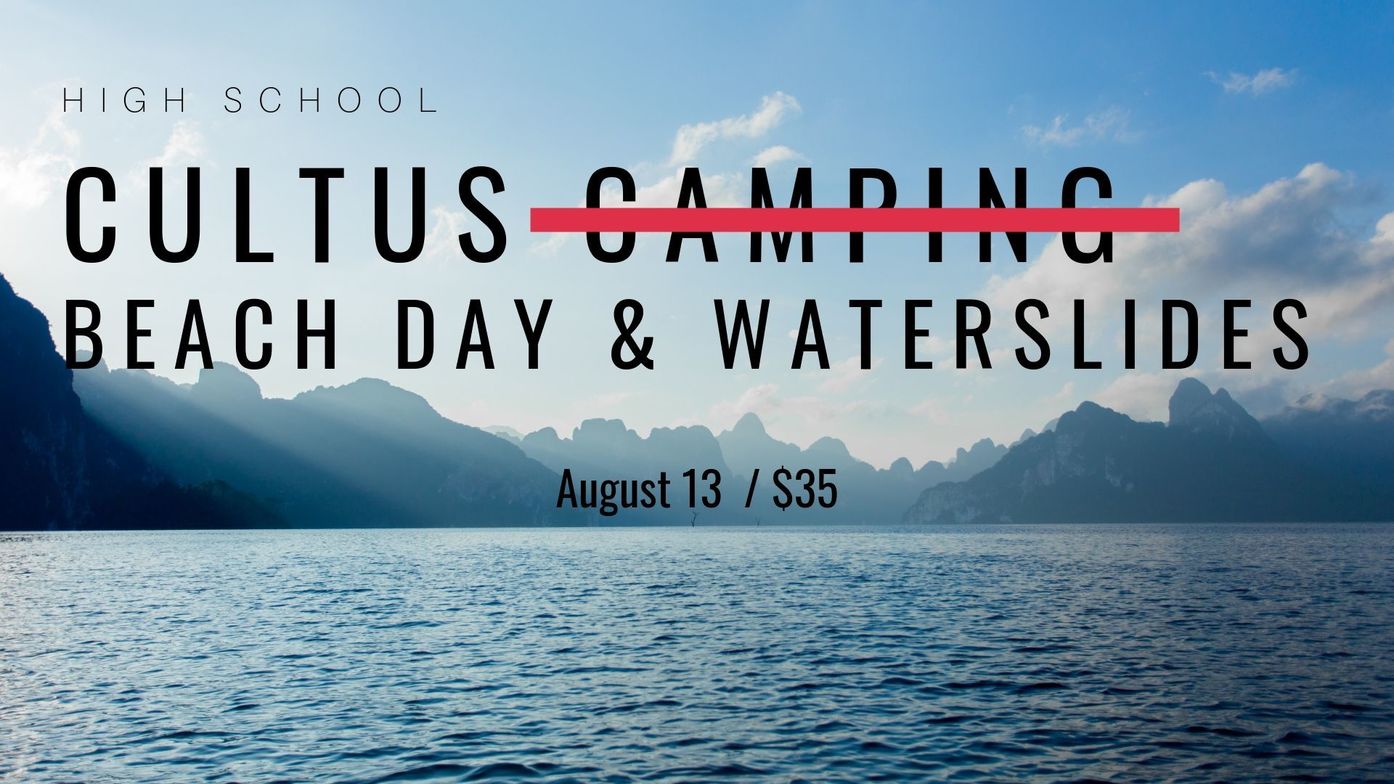 Save to your Calendar
CAMPING TRIP CANCELLED
Due to a fire in the girls' washroom onsite, the campground has turned the boys' washroom into a Co-Ed bathroom. Unfortunately, the bathroom is shared with the rest of the campsite, and includes showers, toilets, and urinals. The nature of this situation arises many Child Protection Policy issues, and so we have made the decision to cancel the trip. We are sorry. but.....
NEW PLAN - CULTUS DAY TRIP - $35
Tuesday August 13 - 10am - 9pm
We don't want to miss out on our Cultus fun, and so we have changed the event. We will be going to Cultus on TUESDAY AUGUST 13! It'll be a beach day, followed by twilight waterslides (4 pm-7:30 pm). If you already signed up & paid for camping, you need to confirm that you still want to come for the day by texting Kevin at 778-808-5844. We will use the camping fee you already paid for the $35 day trip and refund the balance next week.
Registration Information Below
FOR THOSE THAT WERE REGISTERED FOR OUR CULTUS CAMPING TRIP:
There are two options for you.
1. Join us on the Cultus Day Trip
If you would like to join us for the
Cultus Day Trip, you will need to
text Kevin
to let him know (778-808-5844).
PLEASE CONFIRM YOUR ATTENDANCE BY SUNDAY, AUGUST 11. If you text Kevin that you would like to attend this event, your registration will be transferred over to the new event, and you will receive the balance of refund by late next week. The remaining fee will go towards the BBQ lunch, the Water Slides ticket, and transportation.
2. No Day Trip (Full Refund)
If you do NOT want to participate in our new event, you will receive a FULL reimbursement by late next week.
*PLEASE NOTE: We are NOT presuming that everyone will want to come to our Cultus Day-Trip event so are not automatically transferring registration from Cultus Camping to Cultus Day Trip. So if you do not text Kevin to confirm your spot, we will not have a seat for you.
FOR THOSE THAT WEREN'T REGISTERED (NEW REGISTRATIONS):
If you would like to join us for the Cultus Day Trip, you will need to text Kevin to let him know (778-808-5844) by Sunday, August 11th. You will need to bring your waiver form filled out (Available below at the bottom of this page) as well as $35 for the trip. This can be done via Cash/Cheque/Debit machine at the office. Spots are limited to sign up quick!
WHAT TO BRING
Swimsuit & Beach Towel
Sunscreen & Sunglasses
Water bottle
Beach blanket
Beach toys and floaties
Hat
Snacks
Money for dinner at Cultus Lake Waterslides (lunch is provided)