Ways to Give
Online Banking
Giving through your personal online banking site is available with all financial institutions. It's just like paying your bills online and is NLCC's #1 method to receive donations. All you need is an account code to set this up, which is 4 letters and 4 numbers as follows:
For those who attend the Walnut Grove Location - use the first four letters of your last name followed by your 4 digit giving number.
For those who attend the Yorkson Location - use YORK plus your 4 digit giving number.
Have a short last name? Add an X after the letters to make it 4 letters.
Have a short giving number? Add zeros in front of your number to make it 4 numbers.
Unsure of your giving number? It is next to your name on your 2019 tax receipt.
Giving Information Request Form
Pre-Authorized Debit
You can authorize NLCC to withdraw a set amount from your bank account, on a monthly basis. Fill out the form below and submit to the office with a void cheque.
Church Center
You can now use the giving platform through Church Center, the public-facing side of our church database. Log in to Church Center Giving on the web or download the app to set up your giving preferences and donate by credit card.

By Mail
While the office is closed, staff are still working remotely and will be receiving the mail. Feel free to mail cheques to 21015 96th Avenue, Langley BC V1M 2Z3, attention Marilyn Ens.
FAQ's regarding Giving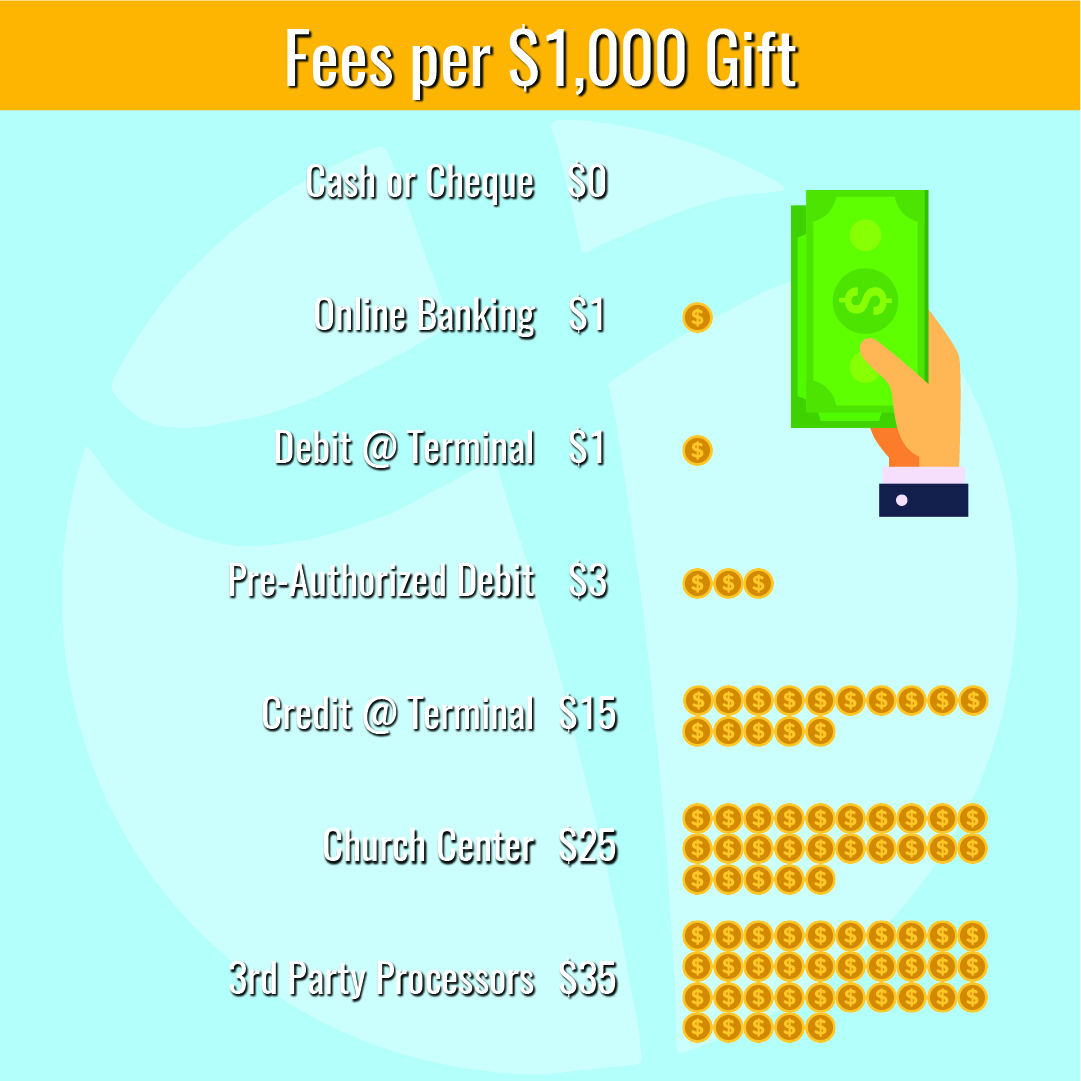 Church Center is the public-facing side of our database called Planning Center. You can give, register for events, and join groups through your Church Center profile.
Payment information is TLS encrypted and stored at Stripe - a Level 1 PCI compliant payment processor. There is no payment information stored in our database other than date, amount, method, and fund, so that tax receipts can be issued and proper accounting can take place.
Stripe (the payment processor) charges 2.2% - 2.7% depending on the type of card you have, plus $0.30 per transaction. On a $1,000 gift, this means $22.30-$27.30 will go to Stripe, and NLCC will receive the remainder. You will be receipted for your full gift. In terms of direct cost, this is the highest of any of our current giving options.
This may happen if your email address or mobile number is attached to your child's account and their profile was selected in the donation process. Please email us at [email protected] with the date, fund, and amount of the donation, and who the donation should have been attributed to, and we will make the correction to your donation record.
In order to provide accurate tax receipts and be CRA-compliant, we have record of your name, address, email address, phone number, date and amount of gifts, method of giving, and if provided, full legal name. We have a dedicated privacy section on our website that addresses data collection and security. Please read through the material and know that we take data privacy very seriously.