Access Your Tax Receipt
by logging in to your profile. You can also update your email and mailing address in our database records.
Planning Center (our church database) is set up with separate profiles for each individual in your household. You can access your information through your profile on Planning Center's Church Center by downloading the app on your mobile device, or by visiting northlangley.churchcenter.com online, using the e-mail address or mobile phone number (that must already be in the NLCC database) to login.
The log-in screen defaults to asking for your mobile number, but you can change that to email by clicking on the gray text "use email address instead".
After typing in the verification code that you will receive (in the original login window),
select your profile,
go to "My Giving" and
scroll to the bottom to "Statements" to download your tax receipt. (Click the arrow to download.)
It is a CRA requirement to include full name including middle initial, and full mailing address on tax receipts, so please only change inaccurate information. Names are not alterable as a security feature, so please email [email protected] with any name changes. Thanks!
Reminder: If you have a spouse and are not joint donors, and donations have been made separately in both names, you will both need to log in to access your individual tax receipt.
For more information about NLCC's database (Planning Center), including data storage and privacy, visit NLCC's Privacy Info
If you have any questions please contact us!
Church Centre Profile
Questions? Contact Us
FAQ
Here are some answers to common questions about the tax receipt process:
Full Legal Names are viewable in the app, but not by logging in through a web browser. We've notified the software development team about this problem and they will look into addressing the issue.
We know that not everyone has a printer or stores all their files digitally. To request a printed copy to be mailed or picked up, please call or email the office.
Tax Receipts were sent out by email on January 26th 2021. It came from '[email protected]' so check your junk mail!
The most common issue is that the verification code must be entered in the original window. The verification code will not work if you close that original login screen and then enter your email or phone number again. That will have triggered another verification code to be sent. If this is still giving you issues, trying logging in on your computer web browser rather than on your phone. Or, download the Church Center App!
It is also important to note that if NLCC doesn't have that specific email address or mobile phone number within your profile already, you will not be able to log in. Use the email that you usually receive NLCC emails from!
The login screen defaults to asking you for a phone number. To switch to email address, click "use email address instead" in gray at the bottom of the screen. See image below.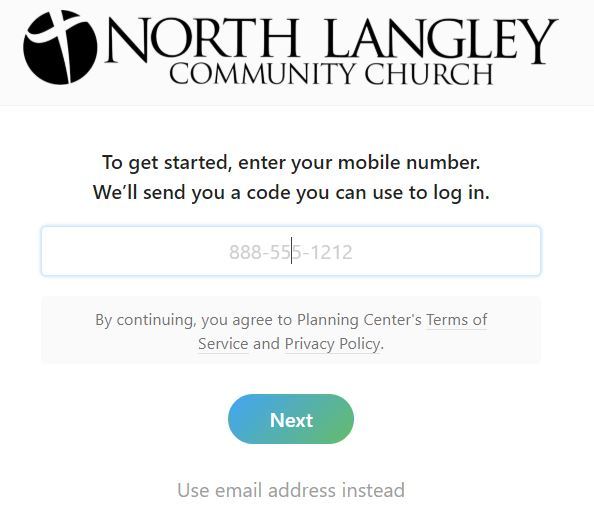 You will then receive a verification code that you will need to enter, before accessing your account.
If logging in to Planning Centre on their website, you will be sent a verification code EVERY TIME. This is to ensure you are actually the owner of that email or phone number and to protect your privacy.
This is just a quirk of our software! As long as your legal name is included on the receipt, that is the most important issue.